Allstate Fire Equipment service technicians are factory trained and certified by the top system manufacturers to design, install, and inspect your fire protection equipment.
contact us to find a location near you or call our customer service department today
860-793-6900
24/7 SERVICE
Our 24-hour emergency service is offered to all our customers. We take your fire protection very seriously and will respond to your emergency call immediately 365 days a year - around the clock.

KITCHEN FIRE SUPPRESSION SYSTEMS
"When it comes to kitchen hood fire suppression, we design hazard-specific wet chemical fire suppression systems to meet your needs and give you additional support by installing, upgrading, repairing and maintaining them by our in-house, factory trained staff."
The Cobra, Amerex KP and Amerex Zone Defense restaurant fire suppression systems are manufactured by Amerex Corporation.​ Cobra is fully electronically actuated. The KP and Zone Defense systems are pre-engineered to dispense wet chemicals through nozzles.
The WHDR System was designed to fit all types of cooking appliances. It features a wet chemical agent that provides Siteer flame knockdown and faster suppression of grease and oil fires. It simultaneously blankets the protected area with a foamy layer that cools and prevents fire reflash.
For the most effective fire protection, nozzles need to be selected and aimed at specific hazard areas on kitchen appliances. This method is the most economical use of space because using a liquid agent reduces the size or quantity of storage tanks and other hardware.​
The Pyro-Chem KITCHEN KNIGHT II system protects diverse hazard areas and performs necessary auxiliary functions. It is designed to be used with cooking appliances that emit a mixture of potentially flammable oils and greases that eventually rise into the ventilating system.​
The Autofry® MTI-40C is a compact dual basket, countertop deep fryer capable of producing up to 6 lbs of fried food per cycle with the push of a button. Fully enclosed and automated, the Autofry® keeps employees safe from the internal cooking chamber while preparing food product to perfection every time.​
Kitchen fires strike 1 in every 6 homes per year. A residential kitchen fire suppression system can slow down grease flames from engulfing the vent hood and entering the structure of your home while the fire trucks are on their way.​
"Your service is always been professional. But your speedy response on a holiday weekend was just amazing."
Phil Parese General Manager
Rizzuto's – West Hartford, CT​
"It was a pleasure doing business with Allstate Fire. They were very professional, efficient, courteous and on time. I would highly recommend them."
Adrian MylesExecutive Chef,
Caribbean Food Concepts – Newington, CT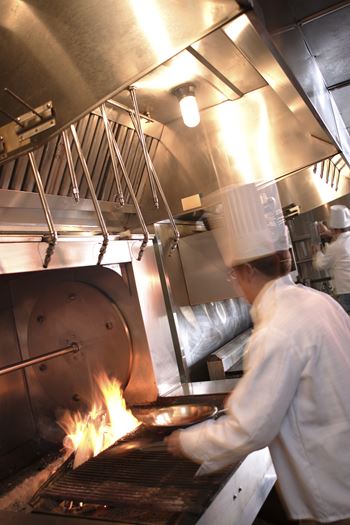 Kitchen fire suppression systems work by reducing fires with a wet chemical. The chemical used depends on the manufacturer; however, it's usually a potassium-based chemical. The chemical becomes a foam blanket under the hood which traps combustible vapors and prevents the fire from feeding on more oxygen. Another popular system on the market uses a wet chemical and water which keeps forming the foam blanket and cools the cooking equipment much faster. It reduces the danger of fire reflash.
ANSUL fire suppression systems are commonly used in diners, fast food chains, food courts, sports complexes, cafeterias, convenience stores, hotels, gourmet restaurants and other food service establishments.
​
SMART BURNER REPLACEMENT
FOR ELECTRIC COIL ELEMENTS
SmartBurner™ is a patented replacement for electric coil elements that looks smart, cooks smart and saves smart. This product comes with a one-year warranty against manufacturing defects
and was proudly designed and engineered in North America.​
SAFETSENSOR SMOKE DETECTOR
WITH POWER SHUT-OFF FEATURE
safeTsensor™ was created to address the increasing number of microwave fires and false alarms. It helps keep your home and contents safe from fire damage. It has an automatic shut-off feature and can be reset.