Carbon Dioxide
Fire Extinguishers​
Cartridge-Operated (Dry Powder)
Fire Extinguishers​
Cartridge-Operated
Fire Extinguishers​
Dry Chemical
Fire Extinguishers​
Kitchen-Class
Fire Extinguishers​
Allstate Fire Equipment service technicians are factory trained and certified by the top system manufacturers to design, install, and inspect your fire protection equipment.
Contact us to find a location near you or our customer service department at today
860-793-6900
24/7 SERVICE
Our 24-hour emergency service is offered to all our customers. We take your fire protection very seriously and will respond to your emergency call immediately 365 days a year - around the clock.

PORTABLE FIRE EXTINGUISHERS​
"Portable Fire Extinguishers are your first line of defense in the event of a fire emergency. NFPA 10 states that all fire extinguishers must be fully charged and ready for immediate use. This includes monthly inspections, annual tag inspection, and periodic testing and maintenance."

"Your service is always been professional. But your speedy response on a holiday weekend was just amazing."
Phil Parese General Manager
Rizzuto's – West Hartford, CT​
"It was a pleasure doing business with Allstate Fire. They were very professional, efficient, courteous and on time. I would highly recommend them."
Adrian MylesExecutive Chef,
Caribbean Food Concepts – Newington, CT
Clean-Agent Fire
Extinguishers​
Wheeled Fire
Extinguishers​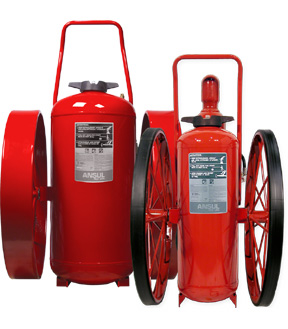 At Allstate Fire Equipment our technicians are required to ensure your fire extinguishers comply with NFPA 10. There are three types of portable fire extinguishers that are widely used: Multi-purpose, ABC and regular dry chemical. Our technicians will recharge and repair any portable fire extinguisher at your facility unless it must be removed for further maintenance or recharging. In that case, we will replace it with a fire extinguisher that is suitable for the potential fire hazard you face.

We can assist you with the purchase and installation of new fire extinguishers at any time. All inspections are conducted by Allstate Fire Equipment. For your protection, we never use subcontractors.
​